Brief History:
As for the preparation of human services profession, the program of the department of funeral science covers all aspects of funeral home operation as well as the practical and theoretical sides of funeral service. Our programs not only prepare students for entry-level employment in the funeral service industry but also provide a strong theory-based curriculum. Students of our department will be educated to concern the responsibilities of the funeral services profession to the nearby communities.
Objectives:
Our curriculum is focused on enhancing students' background knowledge about the funeral service profession and developing the proficiency and skills necessary for the profession. Students of our department will also be equipped with information related to the social, legal, psychological, religion and public health issues that are associated with death. Upon finishing the courses and training of our department, students are expected to get licenses and certificates that are related in this field.
Features:
Department of Funeral Science is the first department in the higher education system to set up the life etiquette professionals. We strive to train students in developing their professional skills and cultivating their disposition in rites of life. The mission of this department is to train students as the professionals in the field of funeral science. To meet the requirement of job market, we aim to design the curricula to equip our students to get the license. In addition to helping students in getting the license, we also make efforts to train them as the professionals in the field of life and care, complete life management and life etiquette education-based.
Curriculum:
Our curriculum includes Hospice Care, Grief Counseling, Funeral emcee Training, Mourning hall, Remain Care, Life Ceremony Research, Digital Funeral, Life Ceremony, Funeral Service, Funeral History, Funeral view of life and death, Thanatology, Mortuary Documentary Writing., The funeral and Public Health, Funeral ethics, Long -term Care, Service Quality Management, Funeral Psychology,………
Introduction of Equipment: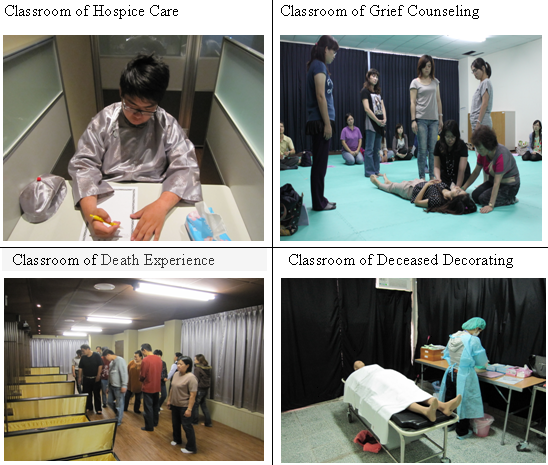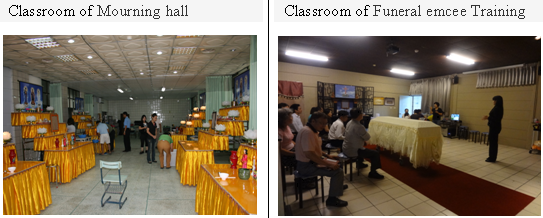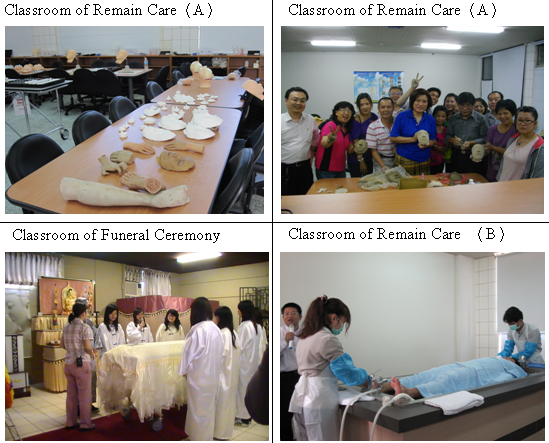 Faculty:
The faculties of the department of Funeral Science Funeral include 6 full time and 14 part time faculties.
Full time faculties:
Name

Position

Education

Expertise

Ta-Neng, Chiu

 

Assistant Professor

Ph. D. of Huafan University Graduate Institute of Asian Humanities

1.Life Ceremony

2.Funeral Service

3.Funeral History

4.Funeral view of life and death

5. Thanatology

Yu-Lung, Ting

 

Assistant Professor

Doctor of Chinese Literature, graduated  from the  National Changhua Normal University Graduate Institute of Chinese.

Chinese Literature, Mortuary Documentary Writing.

Ying Chang

Assistant Professor

Master of Integrative Nursing Institute, National Taipei College of Nursing
Shandong University of Traditional Chinese Medicine
Basic theory of TCM group Dr.

1.The funeral and Public Health

2.Funeral ethics

3. Life Ceremony

 

 

 

Hui-Jen, Lee

 

Lecturer

PhD Student of Huafan University Graduate Institute of Asian Humanities

1.Life Ceremony

2.Funeral Service

3.Funeral Emecc

4.Long -term Care

5.Service Quality Management

Ming-Yu, Deng

Lecturer

PhD Student of

Fu Jen Catholic University Graduate Institute of  Psychology

1.Psychology

2.Consumer Psychology

3.Gender equality

 

Ju-Ping, Chiang

 

Lecturer

Master of NanhuaUniversity, Institute of Philosophy

Thanatology

Funeral ethics

Introduction to life etiquette